"Education is the most powerful weapon which you can use to change the world." Hanging on my "wall of inspiration" in my maths classroom is Nelson Mandela's famous quote on education.
Given that modern technology has, without question, revolutionised the way we do almost everything in our lives, it is a reasonable question to ask whether using technology effectively could help improve education and, as such, in Mandela's words change the world.
Read around the subject of the use of technology in education, aka, edtech and you will find as many studies and people saying edtech is the solution to all education's problems and just as many others stating how ineffective it is and, in some cases, detrimental to learning. The answer I believe, as with most things, lies in the shades of grey between the two viewpoints. With careful application, thought and obsessive focus on the science teaching and learning, I believe technology has the power to make a meaningful difference in education but blanket application of "tech" to "ed" without thought and we should prepare to make some edtech companies very rich and leave our children no better off whatsoever.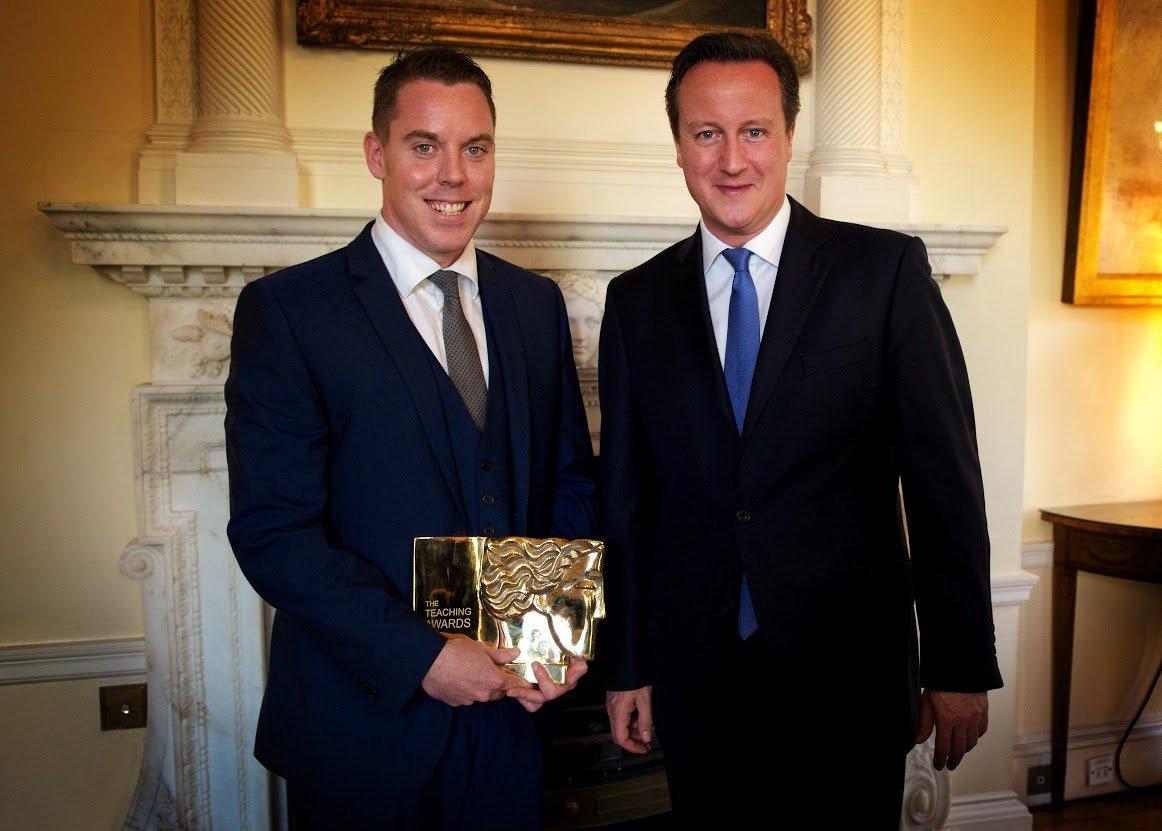 Colin Hegarty and David Cameron
What is really driving the push for edtech?
Globally, after healthcare, education is the second highest worldwide spend with $4.5tn per year, yet the digital share of that spend is two to three per cent, as compared to all other industries which average at 35 per cent. Many see a great opportunity for edtech to fill this huge spending differential.
Are the people who spot this market opportunity the same people that care about the opportunity for students? I believe that is an important question one should consider when listening to the case for the pervasiveness of technology in education.
Do we want disruption?
When talking about the big disruptive businesses' currently dominating the world markets, the sharing economy seems to be the powerful idea. This picture (below) sums up this mood quite nicely. Would the natural way to "disrupt" education be to follow the trend and to have no teachers.
Read: How do you prepare young people for the world of work?
In my opinion, absolutely and 100 per cent not. Every single study shows, without doubt, that the single biggest impact on pupils' outcomes at school is the quality of the teaching/teacher. Furthermore, I think we need to be extremely careful to think about calling for the education system to be "disrupted" in the first place. On the ground, in a classroom teaching a group of students, sometimes from difficult home lives, any teacher will tell you the last thing students want is disruption. Students want stability in their lives and, in certain circumstances, school is the place where they get this the best.
On a higher level, when policies are changed in a school environment at the same rate the wind changes, teachers will tell you the stress this brings and ultimately this negatively affects the students. Finally at governmental level, when Ministers change policy so fast that nobody can read it quickly enough, never mind keep up, this just adds to the problems.
This, by no means, is to say change is not needed or can be good (see below for some amazing movements and changes).
For me, it is imperative that for any disruption or application of edtech, three key factors must be at the forefront of our minds:
Is the technology designed with obsessive focus on the science of teaching and learning?
Is the technology genuinely beneficial to the pupils who will use it for?
If there is a genuine benefit, is that benefit sizeable enough to outweigh any other downside application of this technology e.g. if the learning curve for teachers or the cost is huge are there other changes that could be made e.g. hire more teachers that would require a smaller learning curve and cost less?
If we can be certain that the answers to the above three questions is 'yes' then we should be compelled to investigate whether we can implement these ideas. Now, at this stage you may think having read the above that I am clearly an edtech sceptic. I am. That said, you may now think it unusual that I am the current winner of the UK Teacher of the Year Award for Outstanding Use of Technology in Education.
Read: How Fab Lab London is changing the face of digital education
I won this award for my efforts to democratise access to quality maths teaching for student who cannot afford tuition and, as we speak, am close to releasing a website that I believe will help millions of pupils with access to quality maths education. For some things I see, I am an "edtech evangelist" but for others I sigh a sad whimper and get annoyed at some of the "solutions" available.
So how can edtech work with, rather than against, efforts to improve our education system? Check back tomorrow to find out more.
Updated: Seven ways education can benefit from technology
This is a guest blog and may not represent the views of Virgin.com. Please see virgin.com/terms for more details. Thumbnail from gettyimages.