Is sitting down slowly killing us? The (lack of) movements of office workers have hit the headlines as of late, with many claiming that by simply sitting at our desks we are doing ourselves great harm…
The increasingly sedentary lifestyles led by those who work in offices have also been the subject of a recent report by the British Heart Foundation, which suggested that prolonged periods of sitting down on a daily basis can lead to serious health problems such as cardiovascular illnesses and type 2 diabetes.
However the issue is now being tackled head on, through a joint initiative spearheaded by Virgin Media and the University of Chester, in what is thought to be the longest scientific experiment of its kind ever undertaken.
Two groups of contact centre agents at the company's Sheffield centre – where 900 people are employed by Virgin Media – have volunteered to use adjustable sit-stand desks and stay on their feet for a minimum of two hours each day.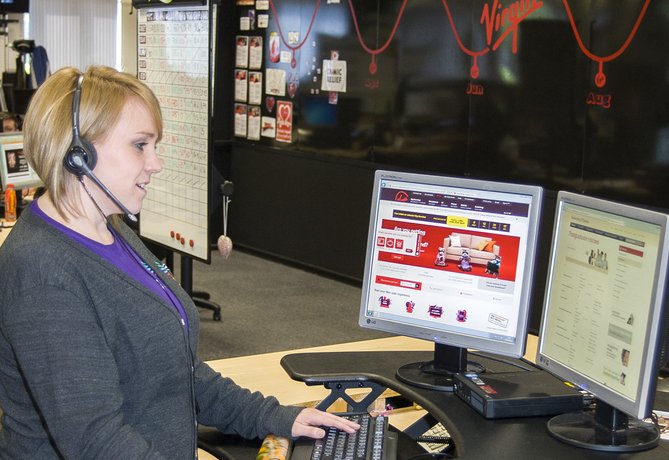 Image credit: Virgin Media
The first group will use the adjustable height desks for six months, and the second group (the cross-over control group) for the next six months. Previous short-term studies have calculated that a person could burn around 30,000 extra calories per year, which equates to half a stone of fat (8lbs), simply by standing for two to three hours a day at work.
"The simple act of standing for even as little as two hours per day can increase muscle activity to have a significant impact on health and wellbeing," explains John Buckley, Professor of Applied Exercise Science at the University of Chester – the man charged with leading the experiment. "This unprecedented study with Virgin Media will allow us gain a more comprehensive understanding of the benefits working on your feet can have on health and performance."
It's widely accepted by many HR professionals that getting buy-in to health and wellness programmes can often be difficult to achieve, with many staff reluctant to meaningfully engage. However with the possible health benefits on offer, staff at Virgin Media's Sheffield centre are looking forward to the change in routine.
"We are always looking for new ways to improve our people's health and wellbeing," Maurice Daw, Chief People Officer for Virgin Media, commented. "The results of previous studies are impressive and we are looking forward to working with the University of Chester to explore the longer term benefits achieved from this way of working."