Shocked by the litter strewn across the streets during her early morning post rounds in Cardiff, Ella Daish set about reducing her own plastic consumption.
"As a postal worker, I was on the frontline, seeing bin bags ripped open by seagulls and having to step around so much rubbish," says Daish. "Then I got my period and it dawned on me how much I was throwing away during one menstrual cycle – it was ridiculous. I did some research and found that some of these products contain chemicals and up to 90 per cent plastic – it's shocking."
Seeing red
In February 2018, Daish launched an online campaign to make all menstrual products plastic free. "Menstrual products are an essential but the plastic content of them isn't, so I decided to take a stand," she says, now on a mission to break the plastic cycle.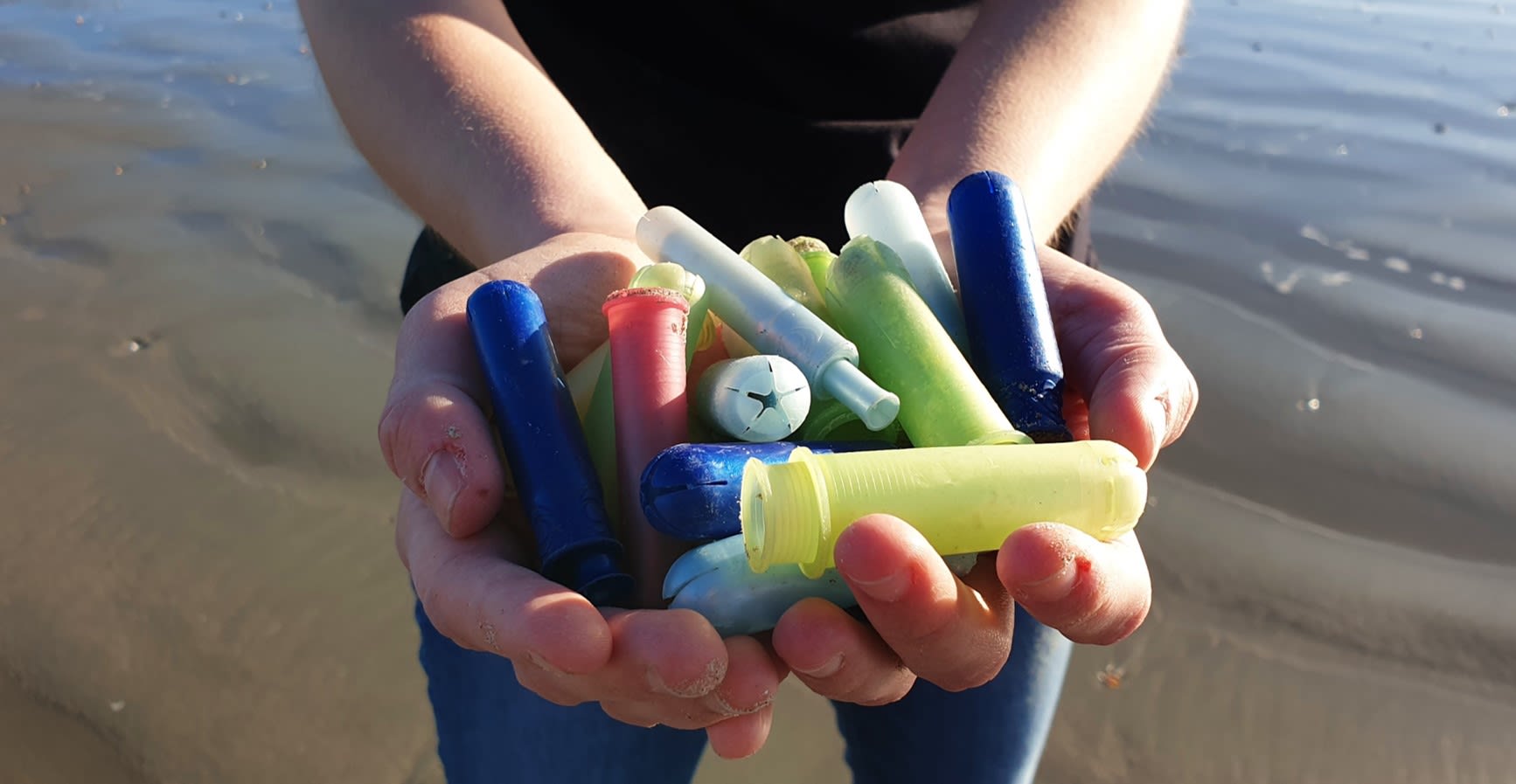 Image courtesy of Ella Daish
Women use an average of 11,000 disposable menstrual products during their lifetime, according to the Women's Environment Network. If these are not disposed of correctly, they can block our sewer systems and escape into rivers and oceans. A 2018 report by the European Commission found that period items are the fifth most common waste washed up on beaches.
So far, more than 107,000 people have signed the petition asking manufacturers and supermarkets to make period products plastic-free. "The response to my campaign has been unprecedented," says Daish who believes that this excessive waste is avoidable.
In fact, Natracare has been producing plastic-free, organic cotton tampons and sanitary pads since 1989. "We know that it's possible to make environmentally-friendly menstrual products, so why are other huge brands not doing it? They've got no excuse," she says. "I was blown away when I discovered that we make something we use for less than eight hours with a material that takes hundreds of years to break down. The product design is completely wrong."
Image courtesy of Ella Daish
Eco-battles in the bathroom and the boardroom
Daish's campaign for more supermarkets to sell environmentally-friendly options in store is working. Nationwide, supermarkets including Tesco, Sainsbury's, Asda and Waitrose now offer plastic-free period products, including reusable cups, alongside conventional pads and tampons. Waitrose has also started stocking DAME reusable tampon applicators.
It all comes down to freedom of choice and Daish believes that we have power as consumers. Having more plastic-free period options visible on the supermarket shelves normalises it and makes it more accessible to everyone
Daish staged a demonstration outside Lil-lets headquarters to call on them to remove plastic from their products but is yet to receive a response. However, Proctor & Gamble, who produce Always and Tampax, have agreed to meet face-to-face this April.
"It's within their interests to do something, whether it's for financial or environmental benefits, because consumers are demanding it. I really want them to go plastic-free in their tampons, pads and packaging, and to ditch plastic tampon applicators altogether," comments Daish, unfazed by the prospect of taking on one of the world's biggest period product manufacturers. "It's the environment at stake!"
Image courtesy of Ella Daish
Period Pollution in numbers:
Tampons, pads and pantyliners result in more than 200,000 tonnes of landfill waste per year.
2.5 million tampons, 1.4 million pads and 700K pantyliners are flushed down UK toilets every day (that's more than 1.5 billion menstrual items flushed down the toilet every year in the UK alone).
In 2017, beach clean survey data from the Marine Conservation Society revealed that four pads, panty liners and backing strips are found for every 100m of beach cleaned, along with 1.2 used tampons and applicators. That's 4.8 pieces of menstrual waste on average per 100m of beach in the UK.
There are more than 400,000 sewer blockages in the UK every year, of which up to 80 per cent are avoidable and caused by fats, oils and grease, wipes, and sanitary waste.
Image courtesy of Ella Daish
At the beginning of 2019 Scottish First Minister Nicola Sturgeon announced a £175,200 campaign promoting the use of reusable sanitary products in partnership with Zero Waste Scotland. "It's brilliant to see Scotland leading the way," says Daish. "While it's great to see changes in individual behaviour, government policy and legislation has much bigger and faster impact and I would love for the rest of the UK to do something similar."
Daish wants more straight-talking communication and better signage on toilets to explain the impact that flushing period products have on our environment and wildlife. She is currently working with Welsh Water to find better ways to stop girls from flushing period products down the toilet. "We were never taught not to flush things down the loo but the toilet is not a bin, it connects to the sea," she says. "Menstrual waste puts so much pressure on the sewage systems and treatment works. But there's already a taboo with periods. If young girls think periods are disgusting, they will just take out tampons and flush them down the loo, so they don't have to look at it."
Period Power
Recently the children's charity Plan UK campaigned successfully for the introduction of a blood droplet period emoji. "Yes, it's light-hearted but it provides a new way to speak about periods," says Nicola Bristow who coordinates Plan UK's Let's Talk Period programme. "The more people are talking about periods, their experiences and the products available to women, the better.
"By improving education about the different products available, changing how people talk about periods and lifting the stigma and shame associated with menstruation, girls and women can make more informed choices about how they manage their periods. That includes reusable and sustainable products."
Image courtesy of Ella Daish
Daish was just given branded plastic pads and tampons when she was taught about periods at school. But when she started using plastic-free products, she was actually excited about getting her period. "I have never felt that before!" she laughs. "Every woman is different and it's all about discovering what works for you – suddenly it made life so much easier. Reusable products definitely make me more in tune with my cycle and it's so empowering to take charge and own your body."
A year of action
This year, Daish is calling on manufacturers and supermarkets to make plastic-free periods easy to access, and encouraging women to go green on their flow. "It's really in the public eye now and I want to create more awareness and action," she says. "This issue affects everyone from the girls and women using the products, to people walking past the products washed up on the beach. So many men are talking about it too – it's opening up conversations that may not have been started before."
"This has become my life and my drive to make a change – I really want to make the world a better place." For Daish, it's the start of her journey and while she doesn't claim to have a fully plastic-free lifestyle, she's confident that she is making more informed choices. "It's heart-warming that my campaign is making people think about their lifestyle." She has been particularly inspired by the positive messages she has received from teenage girls. "It's great to know this campaign is having an impact beyond the companies, it's actually touching people's lives."
This article is part of Virgin's International Women's Day series.
This is a guest blog and may not represent the views of Virgin.com. Please see virgin.com/terms for more details.