Google Science Fair was launched in 2011 in order to increase access to education and offer students around the world the opportunity to pursue their curiosity and foster their interest in science. But why does Google think that it's important to support young people and their ideas?

Working with partners such as Virgin Galactic, National Geographic and Lego Education, Google Science Fair invites young people to submit their ideas and projects across five distinct scientific categories – natural sciences, engineering, pure science, computer science and physics.
"Young people can and have made significant contributions to solving some of today's greatest challenges," Miriam Schneider from the Google for Education team explains. "The Google Science Fair is a way to support and foster the next generation of scientists and engineers, and encourage them to answer the questions they have about the world around them. It's only through trying to find solutions to these questions that we can truly create change."
We want every student to feel like they're good enough, smart enough and capable enough to change the world.
The competition offers young people the chance to have some unique experiences from mentoring, classroom grants and scholarships to once-in-a-life-time trips all designed to help these students continue to pursue their projects and fields of exploration. This year, they've also introduced an Incubator Award, which celebrates a student aged 13 to 15 that shows extraordinary promise.
"Our hope is to encourage all students who enter – not just the winners – to continue exploring and asking questions about the world around them," Miriam added. "We want every student to feel like they're good enough, smart enough and capable enough to change the world. From fear of failure to pre-conceived dislike of a certain subject, our aim is to encourage students just to 'try' – because you never know what might be possible if you do."
We caught up with 17-year-olds Ciara, Émer and Sophie to find out more about Google Science Fair. The Irish trio won a trip to Virgin Galactic's Mojave base in last year's competition for their project on how super bacteria could aid crop production and solve the global food crisis.
How did you come up with your idea and why did you pursue it?
We thought of our idea in February 2012 when Émer was gardening with her mom, and they pulled up their pea plants. Émer spotted some strange, wart like nodules on the roots of the plants and, wondering what they were, brought them into her science teacher as they were studying plant biology. Her teacher told her that bacteria called rhizobium live in these nodules and aid the growth of legume plants. We thought this was really interesting, and as we were studying the Horn of Africa food crisis in geography at the time, we decided to look into how we might use this 'super bacteria' to aid crop production.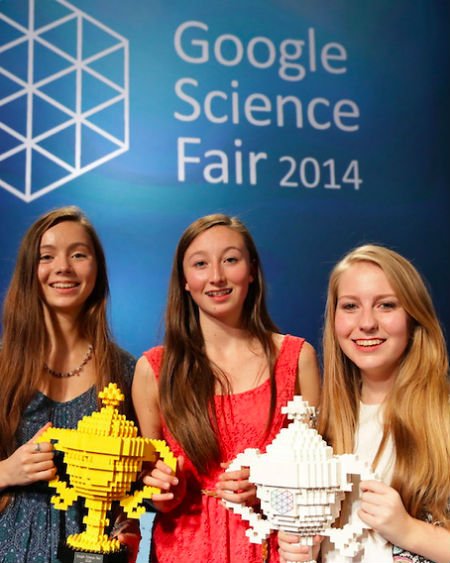 Image from Google Science Fair
Our project (and idea) completely evolved as we worked. As we became more experienced in science and more matured and socially aware we changed our methods, techniques and goals to try to make as big an impact as possible, and also to make sure that impact was in the area needed: in our case, the global food crisis.
What have you done with the idea since winning Google Science Fair?
Since the Google Science Fair we have been so busy attending and speaking at many events all across Ireland and in other countries too. Google Science Fair really has opened many new doors for us.
In terms of the project, we haven't performed more experiments since the competition, mainly because we are so busy! We started this project when we were 14, and now that we are 17, our interests in different sciences has diversified and so it is likely we will be working on different aspects of the project.
Why do you think that it's important that young people are given support to develop their ideas?
We believe it is so important for young people to be given support to develop their ideas. First of all parents have a key role in supporting their kids, and not just in science but in all areas of interest.
Also teachers and those who play a part in young people's lives have a responsibility to encourage them to excel in their area, and to help them to do so. Any idea, if nurtured correctly, has the potential to change the world, so ideas from sources of every kind should be taken seriously.
This year's competition has just launched, find out more about it on the Google Science Fair website.